Director John Dingle

John has spent the past twenty eight years working with young soccer players and developing youth soccer education programs.  During this period, John has been instrumental in developing new coaching methods and new coaching activities to ensure player development.  John coaches  boys and girls throughout the year to stay in tune with the demands boys and girls face throughout the soccer year.  John also believes "the work of a child is play" and by using age appropriate activities the players not only develop their soccer abilities, but also learn life lessons.  John has authored seven coaching manuals, has been a featured clinician throughout the Mid-Atlantic, and continues to animate activities for the Animated Coach's Library.
More on John
United State Soccer Federation "Youth" License
USSF "B" License
Maryland State Youth Soccer Association Instructor for "E" and "D" Coaching Licensing Courses
Fomer Director of Coaching SAC/HC for 16+ years
MSYSA Boys and Girls ODP Coach
Boys and Girls Olympic Development Program Assessor
Founder of the Central Maryland Short Sided League
Founder of the Columbia Winter Soccer League
Recognized by Howard County Office of Children's Services Celebrating Successes ceremony for making a difference in the lives of children.
Former High School Coach
Former College Coach
Staff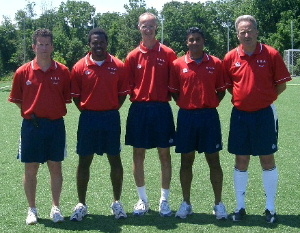 The Soccer Source 360 boasts a licensed and respected coaching staff.  Each staff member coach's youth soccer teams throughout the year.  Assisted by a carefully selected team of quality coaches, our staff not only teaches at the highest level but also demonstrates each lesson for all our campers to observe and emulate.  With an innovative and enthusiastic approach, we teach a level of soccer so superior that we guarantee an unforgettable experience for your child.
Staff includes:
Oscar Sancho-Davilla, USSF 'C' License,
Jeremy Dillon, USSF 'C' License
Clif Walcott, USSF 'B' License
Lincoln Phillips, USSF 'A' License
Kevin Flynn, USSF 'C' License, Marriotts Ridge Boys Varsity Coach
Mamadou Kansaye, MYSYA Coaching License
Kristen Sample, FA England Prel. Badge
Billy Brush, USSF 'B' License
Brian Dingle, MSYSA Coaching License
Mark Hopwood, USSF 'C' License
Nathean Meadows, USSF 'B' License
Marty Stiteler, USSF 'C' License
Frank DiLeonardi , NSCAA Advanced Diploma
Patrick Letts, USSF 'D' LIcense
Michael Elfman, USSF 'D' License
Joe DiFonso, USSF 'D' License