2016 Goalkeeping Camps

 
TBA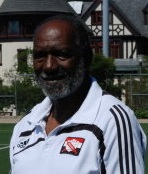 Featuring Director Lincoln Phillips
Topics to be covered include maximizing the use of the hands, shape of the keeper, staying alert and alive, staying on your feet for as long as possible, decision making, communication, organization, footwork, diving, shot stopping, distribution, and game savvy.
The camp will be held in conjunction with a field players camp.  This will allow the goalkeepers to put their lessons into practice at the end of each day.  We have an inclement weather policy that reschedules all missed time do to weather safety issues.
About Lincoln:
2014-present Women's Goalkeeping Coach T&T

2011-present MSYSA Coaching Education Staff

2011-2013 Loyola University Assistant Coach

2005-2011 Trinidad and Tobago Technical Director

1995-2004 FIFA Staff Goalkeeping Instructor

1995-2000 Technical Director PWSI

1992-1994 US National Team Goalkeeping Coach

1990-1993 Virginia Commonwealth University Men's Coach

1983-2001 US Soccer Coaching School Instructor

Author of two books- "Soccer Goalkeeping: The Last Line of Defense, the First Line of Attack," and the other an autobiography called, "KEEPER! Rising Above and Beyond the Crossbar: An Autobiography."

1975-1995 Director of Lincoln Phillips Soccer School

1970-1980 Howard University Head Coach

1971 and 1974 NCAA Division 1 National Champions