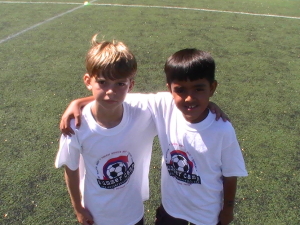 This is our 27th year running open camps. Open camps are for boys and girls age 5-12. Participants in an open camp range from beginners to advance travel players.   Groups are divided by age and ability.   Coaches insure player development by using rapid training techniques that allow for quality repetition to form good habits for each skill. An overall emphasis of fun is developed with enthusiasm, dynamic activities, and goal setting.
Each Soccer Source 360 coach holds a coaching license, coaches youth players throughout the year, and has played soccer at a high level. Our coaches know soccer and they know children.
Players begin each day with a thorough warm up.   The camp then progresses to the group stage where players stay with their assigned coach and group. Each day the group stage starts with dribbling mechanics so that each player develops a great relationship with the ball. Throughout the week players will learn push, chop, and roll touches. They will learn to incorporate these touches into patterns so they will develop their own dribbling moves just the best players in world have done. This is different than coaching dribbling moves as we believe creativity does not come from copying the coach it comes from self discovery. The topic of the day is then introduced; topics include dribbling, passing, receiving, scoring, volleying and tackling/defending. Heading is a topic for players ten and older. The topic is developed in a simple to complex format ending with a small sided game or tournament. Players are challenged throughout each day.
Click the camp schedule link in the blue column to find a camp in your area.