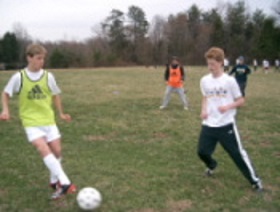 Own Your Development Camps
Own Your Development programs are open to boys and girls age 8-14.  We expect players at our Own Your Development camps and programs to come to the field ready to invest themselves with enthusiasm.  These camps will use a whole-part-whole progression and have an emphasis on player enjoyment.
This progression starts with players playing the game with the structure of a match.  Players will be expected to learn more about positional play and follow all soccer rules.  Coaches will tease out the topic of the day through coaching in the first portion of the camp for the players to understand the application and importance of the topic to the game.  Our staff will address the part of the game we are focusing on with our curriculum with activities that will allow the players to improve while seeing the relevance to the game and their play.  We then put the players back into the game to see their progress and continue the learning curve.
Our Own your Development Camp will give players a reason to:
Put more effort into soccer
Think more about soccer and their game
Challenge themselves to improve
Risk failure in an effort to excel (Soccer Source 360 believes Fail stands for 'first attempt at learning')
Practice on their own
Own your development camps will be held throughout Anne Arundel, Baltimore, Carroll, Cecil, Frederick, Harford, and Prince George County during the summer.  Our camp schedule will be announced in January with open registration.