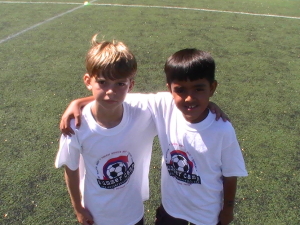 Own Your Fun Camps
Soccer Source 360's Own Your Fun programs are designed for boys and girls age 5-10.  We believe the curriculum for players in their initial stages of the game needs to be delivered in an enthusiastic manner. This allows players to maximize fun while developing skills for lasting soccer enjoyment.  Therefore, we will use a play-practice-play progression each day.
Each day will start with players playing in a small sided game.  Coaches will focus the information delivered to the players to the topic of the day during this portion of the camp session.  Our goal will be to find more positive moments to highlight then corrections throughout the play portions or the day.  The coach will then practice the part of the game the players need for development.  This practice time will incorporate rapid training techniques, the use of opposition, and fun challenges for the players.  We will then end each day with another age appropriate game.
Our Own Your Fun Camp will give your players a reason to:
Look forward to going to soccer
Invest themselves with enthusiasm when playing soccer
Play soccer on their own
Challenge themselves to be their best
Own your Fun camps will be held throughout Anne Arundel, Baltimore, Carroll, Cecil, Frederick, Harford, and Prince George County during the summer.  Our camp schedule will be announced in January with open registration.