Team Training with Seasonal Planning
Are you looking for an established and respected soccer training program for your team this fall, winter, spring, or summer?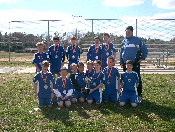 The Soccer Source 360 has the only team training program which allows YOU to have a say in the curriculum, has your team evaluated before training begins, and leaves you with a seasonal training plan for your team.
We offer a selection of over twenty exciting topics, ranging from the fundamentals of passing to the art of goal scoring and advanced tactics. In fact, we offer every topic you need to improve your team's level of performance to win games.
Hundreds of teams have benefited from our program- from novice to State Cup champions.
A one week summer camp for fifteen hours will cost your team just $1200 and is open to up to sixteen players. We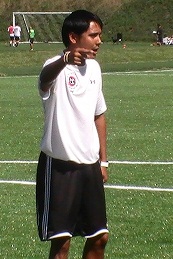 guarantee to improve your team's level of performance and understanding. If you are not completely satisfied, we will refund your money.  We also run the team training program in the fall, winter, and spring.  Send us an email for the fee schedule.
Team camps are scheduled at a field in your community, and a schedule convenient to your team. We can run the camp for a continuous week from 9:00-12:00, 1:00-4:00, or 5:00-8:00. We have also conducted team camps spread out over five weeks during the summer with one day of camp being held each week.
Teams wishing to receive more information on our team training program can request the team training program complete with the team topic selection chart through emailing john@mdsoccer.com.
Team Training Session Selection Form
Field Sessions
Running with the ball/ Attacking Dribbling- The when, why, where, and How of exploiting space in front and behind the opponent.
When to penetrate, when to possess
Creative Dribbling Moves
Passing- The when, why where, and how of passing. Includes passing to feet and passing to space, the use of deception and the correct pace.
Speed of Play-Rhythm changes when and why
First Touch- setting up successful passes and shots. Include cushion, wedge, and turning touches.
Finishing- The when, why where and how of shooting and finishing. What is the difference? Low, early and accurate
Flighted Balls- When and How to take a controlling touch, When and How to play a first touch ball. Attacking and Defending Heading for possession included.
Combination Play- The when, why and how of the wall pass, overlap, double pass, and takeover. How visual signs show players the correct combination to support for and execute.
Creating and Exploiting Space- Use of depth, width, and mobility to create numbers up situations.
Spatial Awareness- See the field better, make quicker decisions, increase the speed of play.
Individual Defending- How pressure on the ball leads to goal scoring opportunities.
Team Defending- Defending in small groups and as a unit.
Team Attacking- How do we attack as a unit and balance the field to prevent a counter attack.
Complete Team Training Selection Chart and Mail to: Soccer Source 360, 9 Sugar Court Catonsville, MD 21228 with camp deposit of $300.