Methods of Coaching Section
Purchase a One or Two year Membership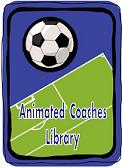 The Methods of Coaching section has two portions. The first contains a number of articles detailing methods that coaches can use to make their practices more efficient. A coaching progression coincides with each article written.
We have animated progressions in the following method of coaching topics:
Whole / Part / Whole Coaching progression
Practice Organization
Maximizing Field Space
Functional Technical Training
Functional Tactical Training
Active Rest
Numbers Down Possession
Adding Transition
Shadow Play
Coaches who use this section will improve every practice they run as methods are shown to create more time on task, make practices more game like, and give additional teaching methods.